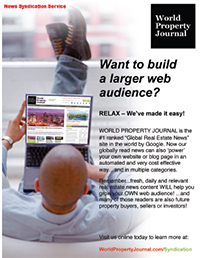 RELAX - we just made it easy to do!
(Watch short syndication overview - Click here)
World Property Journal is the #1 ranked International Real Estate News site in the world by Google today (Google that term in red above to see yourself), and regularly cited and quoted by many other major mass new media outlets like Bloomberg News, TIME, NBC News, CBS News, ABC News, Huffington Post, AOL, Realtor Magazine, Yahoo Finance, USA Today, WSJ, Mortgage Bankers Association, NASDAQ, National Real Estate Investor Magazine, and hundreds of others worldwide. Now our insightful U.S. and international real estate news content can 'power' your own agent page or broker site with our daily, automated and very cost effective news feeds, and for multiple real estate news categories!
WPJ's timely and relevant real estate news, hosted on your website, will grow both your website and social media audiences (and engagement) with our informative daily real estate content.
We offer 3 real estate News Feeds to suit your own website needs:
Residential Real Estate News

Commercial Real Estate News

Vacation & Leisure Real Estate News
Best of all, it's easy. The feed quickly integrates into your site's look and font style, and automatically updates each day.
To proceed to purchase your daily real estate News Syndication Service for your own website, start by filling out the form below (Step 1 of 3). Once this form is submitted, you'll be on our secure PayPal payment page to proceed to purchase your service with your credit card (Step 2 of 3). Once payment is made, you'll receive an email from us within 5 minutes with your unique and encrypted embed code to simply cut-n-paste into your own website's news page (Step 3 of 3) - and you'll be all done - and your website will have its daily real estate news displayed on it in less than 2 minutes!
Start your purchase here >>
Step

1

of 3
*All fields required